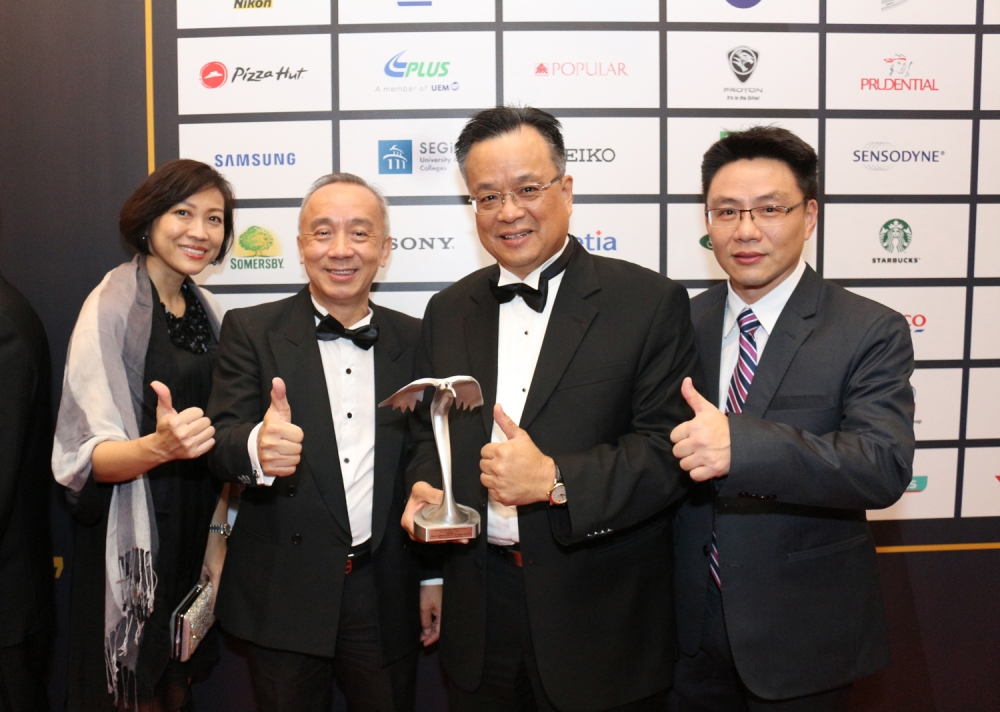 Group Senior Executive Director, Mr Daniel Teng Wai Chong (third from left) shares the proud moment with Evonne Chong Meng Lee, Vice President Group Marketing, Professor Dr. Patrick Kee Peng Kong, Vice Chancellor, SEGi University, and Moses Ling Wei, Executive Vice President Sales & Marketing (right).
SEGi Wins Bronze at Putra Brand Awards 2018 for Fourth Year
SEGi University & Colleges has been awarded Bronze for the fourth time at the Putra Brand Awards 2018 under the Education & Learning category. The event was held at the Majestic Hotel, Kuala Lumpur on 26 October 2018.
SEGi was awarded Bronze in 2017, 2016, and 2012, as well as Silver from 2013 to 2015 under the same category.
Group Senior Executive Director, Mr Daniel Teng Wai Chong (middle) receives the award on behalf of SEGi
This year, there is a 15% increase in the overall winners as 7,000 respondents cast their votes for their preferred brands with a total of 148 awards presented.
The event is organised by 4As (Association of Accredited Advertising Agents of Malaysia) and is endorsed by Matrade and supported by the Branding Association of Malaysia, the Malaysian Advertisers Association, and the Media Specialists Association.
< Back