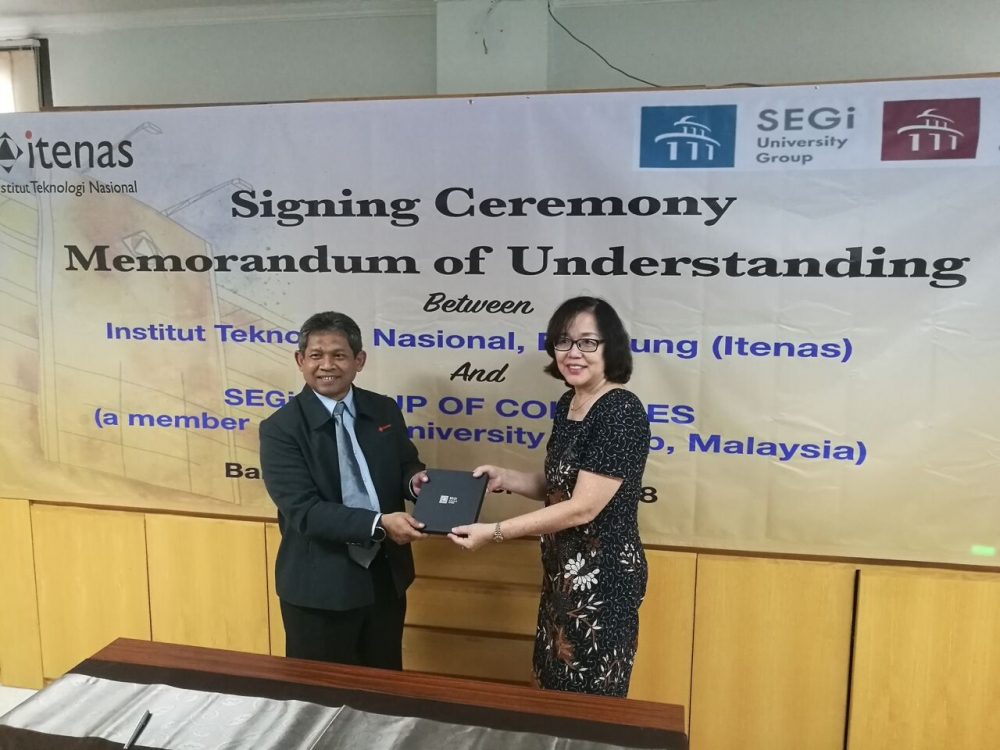 SEGi signed MoU with ITENAS and STIE Ekuitas in Bandung, Indonesia
SEGi signed MoU with ITENAS and STIE Ekuitas in Bandung, Indonesia
On the 28th and 29th of November 2018, Dr. Lisa Tan, Chief Executive Officer (CEO), SEGi Group of Colleges (SGC) and Mr. Roslan Othman, Head, Faculty of Creative Arts & Design and International Collaboration & Partnership were in Bandung, Indonesia to attend two Memorandum of Understanding (MoU) signing ceremonies between SEGi Group of Colleges with Institut Teknologi Nasional (ITENAS) and Sekolah Tinggi Ilmu Ekonomi Ekuitas (STIE Ekuitas) respectively.
The collaborations and partnerships intended to create an academic cooperation through a cooperative programme in promoting scholarly activities; which includes short courses, skill trainings, student and staff exchange programmes, exchanges of research projects, teaching personnel, publications, journals and other materials of common interest, academic visitations, students' mobility programmes and students' holiday programmes.
Besides the MoU signing ceremony, Dr. Lisa Tan was invited as a guest of honor during the Convocation Ceremony of STIE Ekuitas, where she presented a speech urging on being prepared for Industry 4.0, the importance of Future Skills and focusing on the World Economic Forum's vision in propelling the world towards the Industry 4.0.
These collaborations provide the opportunities for SEGi students to experience our neighbouring country, Indonesia. This opportunity will enhance their general knowledge and enrich their life experience by learning and gaining exposure to a new culture through cultural exchanges. In addition, SEGi students will also be able to build their networks and connections outside of Malaysia. Through all the activities that will be held between SEGi with ITENAS and STIE Ekuitas, every student has an opportunity to develop and enhance their personal development.
The collaborations and partnerships with ITENAS is for five (5) years and two (2) years with STIE Ekuitas.
< Back