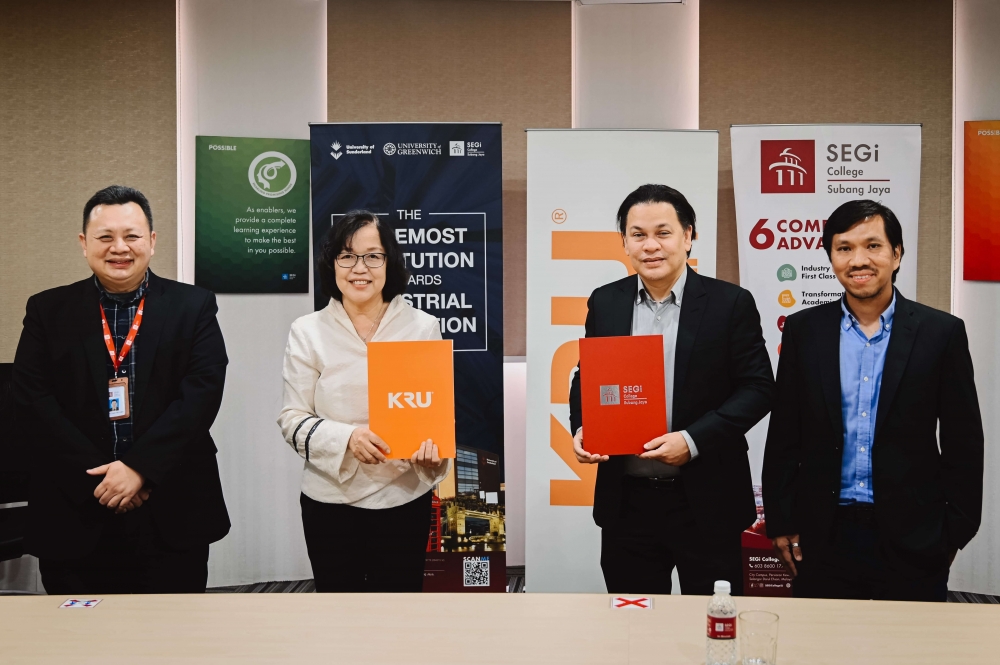 SEGi Colleges ink agreement with Yayasan KRU to secure employment opportunities for B40 students
SEGi Group of Colleges (SGC) signed a Memorandum of Understanding (MoU) with Yayasan KRU to promote joint TVET certifications to raise employment opportunities for creative talents from the underprivileged community.
The MoU between SEGi and Yayasan KRU enables access to diploma programmes, internships and job placements via SGC's Faculty of Creative Arts and Design. The TVET certification programmes for selected B40 students will be provided by KRU Academy, a leading vocational college specialising in entrepreneurial and creative skills development.
At the end of it, these students will receive triple certifications – a diploma from SEGi, a TVET certification by KRU Academy and a professional certification by Maya or Adobe, based on the chosen specialisation. Upon completion, graduates will stand a chance of being absorbed for employment by KRU.
Through this MoU, SEGi students will also be exposed to several specialised training programmes during their internship including in 3D Animation, Visual Effects, Creative Content Development, Video Editing, Audio Production, Directing and Screenwriting, Performing Arts and Digital Entrepreneurship.
"These courses are approved by the Department of Skills Development (JPK) and other professional bodies. Students can also select and undergo professional TVET certification training by KRU Academy in 3D Animation; Social Media Management and Video Editing and Performing Arts. While B40 students are sponsored, other students can also complete any one of these courses at a reasonable cost," said Roslan Othman, Head, Faculty of Creative Arts and Design.
The TVET certifications which are sponsored by Yayasan KRU comes with free meals, accommodation and a monthly allowance of up to RM300 for B40 students.
Roslan added that the partnership between SEGi and KRU not only addresses unemployment issues among creative talents, it also contributes towards upskilling and re-skilling of the creative industry in line with Industrial Revolution 4.0 (IR4.0).
"We need to raise the bar on training and development particularly for niche fields like creative arts and design. The creative field requires a great deal of practical, hands-on training because it is a skills-driven field. It is not easy for graduates to secure a sustainable employment opportunity so we are helping to widen their pool of expertise. This partnership will enable us to train and place interns with established local companies and international project through the software companies' global networking database," explained Roslan.
"SEGi is honoured to have established a link with a respectable industry name and brand. KRU is not just among the pioneers in the entertainment industry but they also provide relevant training and development opportunities, especially to the underprivileged community and SEGi hopes to play a big part in this noble initiative," added Roslan.
"There are many young talents with a passion for the creative industry but factors such as cost, employment opportunities, job stability and others tend to deter them from pursuing an academic qualification in this field. We hope to change that perception especially among the B40 community as we do not want to lose the opportunity to groom first-class talents regardless of their backgrounds," said Roslan.
In addition to this, KRU will also be 'adopting' SEGi College Subang Jaya's (SCSJ) broadcast studio – the first campus studio to be adopted by the entertainment brand. This will enable student participation and collaboration in KRU's on ongoing projects to further strengthen their skills and competencies.
Yayasan KRU President, Dato' Norman Abdul Halim said the foundation is focused on upskilling and re-skilling of B40 youths to prepare them for employment. He is also looking at engaging students at tertiary institutions so that they understand the direction, future and needs of the industry.
"KRU Entertainment, as a group, is quite diversified with expertise in music and filmmaking, digital content, animation, visual effects, events and so on and we are looking for young talents. Instead of them joining the industry and learning, we would like to go to the campus at an early stage so that they get the right kind of exposure that's needed to become a professional or job creator in the industry," said Dato' Norman
The MoU was which was held today at SEGi College Subang Jaya (SCSJ) on June 24, was signed between SGC's Chief Executive Officer Dr. Lisa Tan and Dato' Norman. It was witnessed by Calvin Chan, Deputy Principal of SEGi College Subang Jaya and Noor Hafeez Noor Hashim, General Manager of Yayasan KRU.
Image 1: (from left) SEGi College Subang Jaya Deputy Principal Calvin Chan and SGC CEO Dr. Lisa Tan with Yayasan KRU's President Dato' Norman Abdul Halim and General Manager Noor Hafeez at the MoU exchange ceremony between SGC and Yayasan KRU.
Image 2: Yayasan KRU President Dato' Norman Abdul Halim (third from left) and SGC CEO Dr. Lisa Tan officiating the 'adoption' of SCSJ Broadcast Studio by KRU.
Image 3: Yayasan KRU's President Dato' Norman Abdul Halim sharing a moment with SCSJ's Faculty of Creative Arts and Design students.
< Back