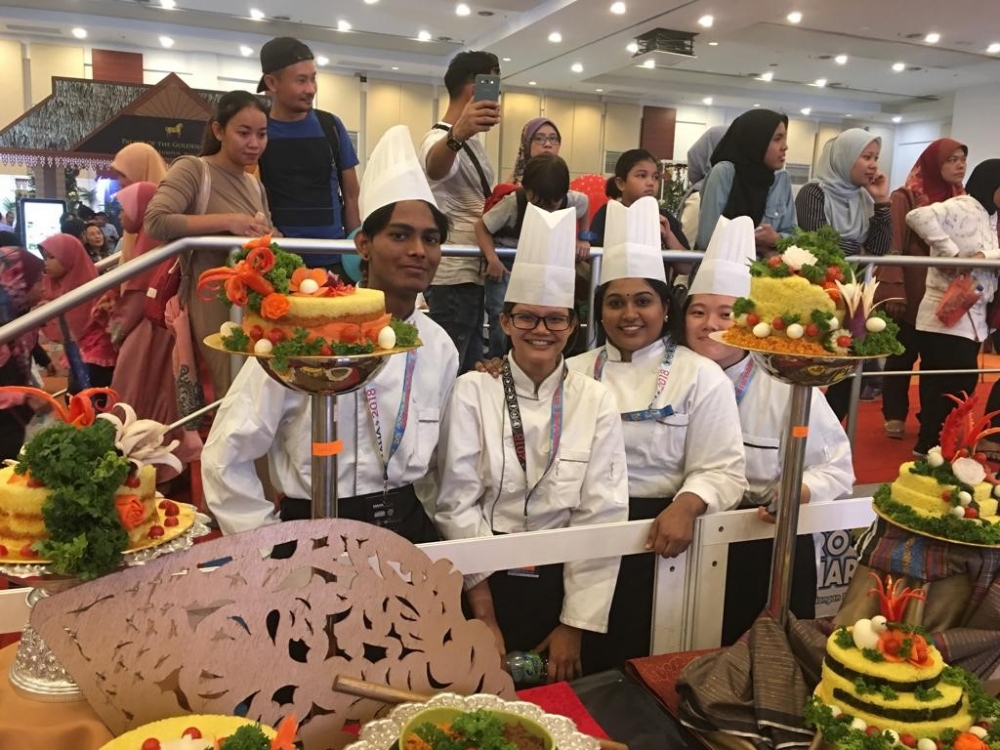 SEGi WINS GOLD AND SILVER MEDALS IN AGRO CULINARY CHALLENGE AT MAHA 2018
On the 2nd of December 2018, School of Hospitality & Tourism (SOHT) SEGi College Kota Damansara had sent two (2) teams of four (4) participants to take part in a competition organised during MAHA 2018. During the event, ten (10) competitions were held. MAHA 2018 focuses on issues such as food security and the enormity of the role played by the agriculture sector as the backbone of national development.
SEGi participated in the event of 'live hot cooking' which is under the Professional Category. There are three categories that have been contested; IPTA/Students, Open and Professional.
SEGi has won 1 Gold and 1 Silver medals in the category of team in AGRO Culinary Challenge. These have been a big achievement for SOHT, as the students were competing with people from the various industries and they were only trained within 3 days before the event takes place.
Name of the winners:
Lee Yan Wei & Vithya Muniandy – Silver Medallists
Ooi Shi Fei & Uren Raj – Gold Medallists
"We trained for about three (3) days, starting from 9 am to 6 pm. I would like to thank Mr. Fairuz, Mr. Adam and Mr. Munawar, lecturers from SOHT, who helped us to prepare for the competition. They sacrificed a lot to ensure that we were able to turn our goal into a reality. Both Ooi Shi Fei and I managed to win gold medals, with 92 points out of 100. It feels so great and happy to get a chance to embrace SEGi's name in the event organised by the Ministry of Agriculture." said Uren Raj, one of the Gold medallists.
He added that in winning the category, they received recognition from their peers, giving them an upper hand as finalists in a Challenge that is highly regarded in the industry and steered by panel of judges who are considered the best in the industry. The SEGi contestants impressed the judges with their outstanding culinary skills through their Pulut Kuning dish.
The panel of judges for the competition included well-known figures in the industry, such as, Chef Joe from Master Chef Malaysia and along with Prof Chef Zam. This competition provided the students with a platform to display their talents and highlight SEGi's in the hospitality industry.
@MAHA2018my #MAHA2018 #ourfoodourfuture
SEGi contestants with their winning medals
< Back